Pathankot Phenomenon in Kolkata as Speeding car kills Air Force drill instructor during Republic Day rehearsal!
Is India safe?Do the politicians ruling India are really concerned with security and integrity of the Nation?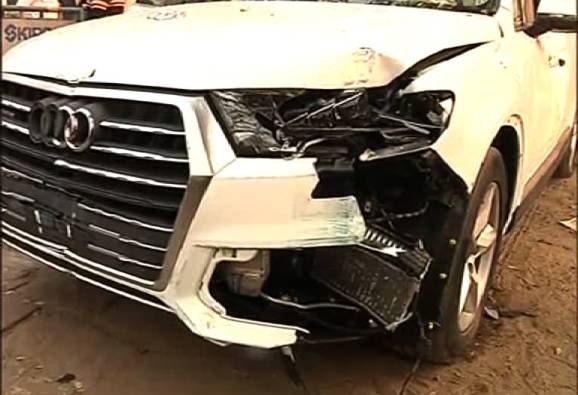 Palash Biswas
2 days ago
As BJP leaders are turned away from visiting Malda in West Bengal which was marred with violence after a ...
Pathankot Phenomenon in Kolkata as Speeding car kills Air Force drill instructor during Republic Day rehearsal!
So easily it happened and on 13rd January,just before the Republic Day celebration!
Virtually,the Air Force Drill ambushed without any resistance!
Chief Minister reduced the event describing it a simple incident of Rash driving and mind you, a politician,TMC MLA is involved as his son was driving the Audi car and the family is absconding!
Back to back,Malda,this incident explains more than reality the states of affair in West Bengal as far as the law and order is concerned.
Mind You,the CM is responsible for internal security which has never been topmost priority for her as she is busy to make herself invincible with her branded Vote Bank and no chance whatsoever stands ever that she would do anything to disturb her Vote Bank whatever might come!
However, sources in the Defence Ministry claim that there were serious lapses on the part of the Kolkata Police, who are responsible for cordoning off the Red Road during the parade rehearsal as civilians are barred from entering the road.
Air Force drill instructor, Corporal Abhimanyu Gaud was run over by a speeding vehicle during Republic Day preparations on Red Road on Wednesday morning. The driver has fled from the spot.
Around 6.30 am, a drill was on, in the run-up to the Republic Day on 26 January, when a vehicle entered the area that had been cordoned off. When Gaud tried to stop the vehicle near the south gate of Fort William - the Eastern Command headquarters, it hit him. Gaud was taken to the Military hospital in Alipore, where he was declared dead.
The driver of the vehicle - an Audi, tore off the temporary number plates and fled from the spot.
Kolkata Police Commissioner Surajit Kar Purkayastha reached the spot to take stock of the situation. "We are examining the CCTV footage. It is very unprecedented how he parked his car and fled. We have begun an investigation into the case," said Purkayastha.
Meanwhile, the Air Force has filed an FIR with the Maidan Police Station and the Kolkata Police have begun a lookout for the accused driver.
On the other hand, Kolkata Police has transferred the case to the homicide department of the Detective Department. Air Force officials will assist civil police in the investigation.
कोलकाता.

 यहां रिपब्लिक डे परेड की रिहर्सल के दौरान एक ऑडी ने एयरफोर्स अफसर को टक्कर मार दी। हादसा बुधवार सुबह 6.30 बजे हुआ। अभिमन्यु गौड़ (30) गुजरात के थे।
कहां हुआ हादसा...
- कार्पोरल अभिमन्यु कोलकाता के रेड रोड पर परेड रिहर्सल की अगुआई कर रहे थे।
- हादसे के बाद ऑडी कार बैरिकेड तोड़कर जैसे-तैसे रुकी और ड्राइवर मौके से भाग निकला। 
- कोलकाला पुलिस ने ऑडी को कब्जे में लिया है और आरोपी की तलाश की जा रही है।
- आमतौर पर परेड की रिहर्सल के दौरान इस रोड पर ट्रैफिक को पूरी तरह से रोक दिया जाता है। लेकिन फिर भी ये ऑडी आ गई।
--
Pl see my blogs;
Feel free -- and I request you -- to forward this newsletter to your lists and friends!