They want the Cinema of Fascism only! Thus, I insist on Nukkad Cinema!
Palash Biswas
In an era of absolute fascism in the greatest emerging market where nothing to be made in and making in means destruction of production and productive forces,where constitution rule of law and democracy mean absolute capitalism branded with fascist level and packaging, Art, Literature, Cinema,Media or any other genre or medium means the weapon of the class caste hegemony rule of the Military State.
Why do you expect freedom?
Why do you demand freedom of expression?
Why do you hope that the educational institution would be autonomous while some one from Soap Arena heads the HR Management,someone from RSS store house heads the panel to rewrite history?
It is as simple as they mean business and they want the Cinema of Fascism only! 
Thus,I have been insisting on Nukkad Cinema.
Thus,I dare to address film makers and suggest that they should also opt for the shorter format so that the screening should not be prohibited.
As they would ban the films which deal with social realism and exposes the truth.
Here you are!
Not just chief, four more in FTII panel pass Sangh test
Anagha Ghaisas, who has a strong RSS background and whose husband was a long-serving Sangh pracharak, has made documentary films supporting Prime Minister Narendra Modi and about Ayodhya.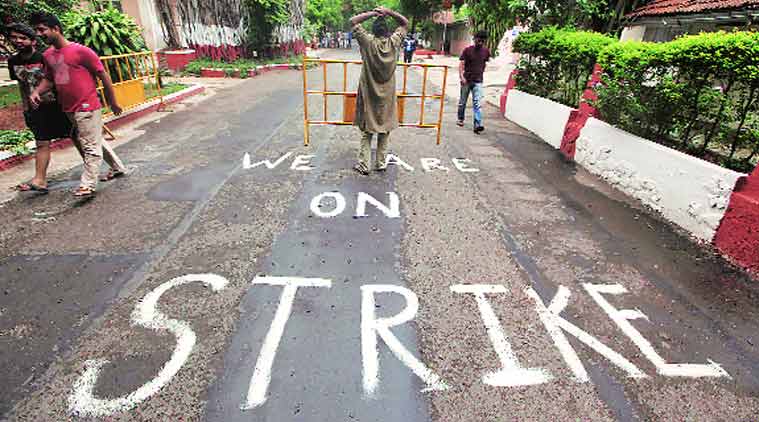 On the third day of protests at FTII. (express Photo by: Sandeep Daundkar)
Written by Ardhra Nair | Pune | 
Published on:June 15, 2015 3:30 am
While protests continue over the appointment of Gajendra Chauhan as president of the FTII Society, four of the eight members nominated under 'Persons of Eminence' category to the society have saffron connections as well.
Anagha Ghaisas, who has a strong RSS background and whose husband was a long-serving Sangh pracharak, has made documentary films supporting Prime Minister Narendra Modi and about Ayodhya. Narendra Pathak had been the Maharashtra president of the ABVP for four years, Pranjal Saikia is an office-bearer of the RSS-linked Sanskar Bharati, while Rahul Solapurkar admitted he was in contention for a BJP ticket in last year's state Assembly elections.
All four told The Indian Express that their vision was to make sure that students passing out of the Film and Television Institute of India have nationalistic feelings along with filmmaking skills.
While Chauhan acted as Yudhishthir in the TV series Mahabharata and Ghaisas has made a few films, Pathak is a writer. Saikia is an NSD alumnus and an actor and Solapurkar has acted in Marathi and Hindi films.
On Ghaisas's desk at her office on Laxmi Road — where she trains poor students from Yeola district in handloom sari weaving — sits a photograph of RSS founder Keshav Baliram Hedgewar. "I am 100 per cent RSS and I am proud of it," she says.
Her husband Vinay Patrale, Ghaisas adds, had been a Sangh pracharak for 21 years, 17 of them spent in Gujarat.
Ghaisas started her career in films by making a documentary on Nanaji Deshmukh, a social activist and RSS veteran. Other than that, she has made films on the National Defence Academy called My Flag My Life, on the Ayodhya temple called Ram Mandir — Adaalat aur Aastha, and on Modi that she named Shri Narendra Modi — Gatha Asamanya Netrutva Ki (A Tale of Extraordinary Leadership).
She says she is in the process of making 26 films on the Northeast.
While Ghaisas admits meeting Modi "four years ago" before he became the PM, she adds, "This point of me being close to Modi and hence being chosen for this post is entirely baseless.
Modiji won't even know I have been chosen. Every government chooses people they believe will do the best work."
According to her, "Films are not just entertainment. A new thought process should start at FTII. Students should have nationalistic feelings."
Pathak, who has been the editor of a Marathi magazine for 14 years, told The Indian Express he had got to know of the appointment only two hours earlier via mail. Dismissing the protests, he says, "Whenever new people come with new vision, there is unrest. I want to address student protests and problems in the day-to-day functioning."
- See more at: http://indianexpress.com/article/india/india-others/not-just-chief-four-more-in-ftii-panel-pass-sangh-test/#sthash.K274rG04.dpuf