Should India be at war as soon as possible?Is it the ultimate agenda for which PM and DM have been trying their best?
Palash Biswas
No wonder! If India overlaps United Sates of America as a War Monger Military state!Ultimate result of fascism is absolute Military state and Hitler being the Dronacharya of the RSS Hindutva wagon which controls PMO and all ministries in New Delhi to accomplish the agenda of Hindu Imperialism,the Hindu Globe is all set to achieve it as we,the people opt for the silence of opportunism.
Maggie Massala diplomcy to benefit Ambani and Adani is not enough,not enough the hot pursuit chest thumping,not enough the RSS head boasting to make Pakistan and Bangladesh Hindu sooner or later,the defence Minister of India openly calls for war as he believes because India did not fight any war for decades,respect for the army diminished.
Should India be at war as soon as possible?Is it the ultimate agenda for which PM and DM have been trying their best?
Mind you,the so much so hyped hot pursuit has already inflicted AFSPA geography within!
Is the RSS governance of Fascism trying to divide India once again all on the name of unifying AKHAND Bharat and the War Cry endles means some sofware to undo the partition of India or the liberation of Bangladesh?
We should get the answers as soon as possible as the ministry of foreign affairs seems be too busy to help who have have been declared fugitives as MIS foreign affairs duty has been reduced thus as foreign policy and diplomacy have been handled thus since the neoliberal children rule the nation!
The defence minister is rather more progressive as he already  declared to deal terror with terror.We know India happens to be the best partner in the US War against terror led by Israel.Now India is trying to launch the Hindutva brand of war against terror and only the RSS headquarter has to decide who happen to be terrorist and who not as the Hindutva Brigade won the  tender of patriotism with the mandate they got with the support of global forces of market and India incs.
Mind you,media reports:
'No War in Decades, Respect for Army Has Diminished,' Says Defence Minister Manohar Parrikar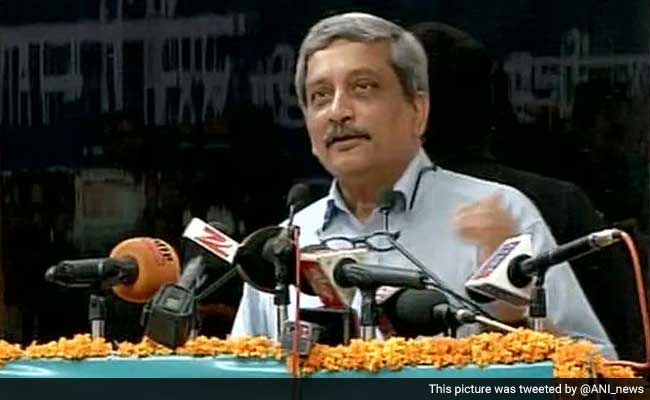 Defence Minister Manohar Parrikar
NEW DELHI:  In remarks that have provoked criticism, Defence Minister Manohar Parrikar has said that respect for the Army is waning because India hasn't fought a war in decades.

"In the past, when there was a letter from a military commanding officer to an IAS officer or any other authority, it received attention of the highest order. Today, that respect has diminished... One reason is that for 40-50 years, we have not fought a war. I am not saying we should go to war. I am saying that because we haven't fought a war, the importance of the Army in our minds has dwindled," Mr Parrikar said at an event in Jaipur on Sunday.

Various opposition parties have reacted sharply to the remarks.

"Ministers in this government say anything and embarrass the nation. We are proud of our Indian Army and they have made us proud every time," said Congress leader Pramod Tiwari.

"It is an anti-national statement by the defence minister," said KC Tyagi, a leader of Bihar's ruling Janata Dal (United).

The minister's BJP came out in his support, saying that all he wanted was to urge people to respect the Army more.
"When a defence minister says this, he says it with a lot of experience and great concern. I am sure he made the statement to instill a greater sense of pride for the Army among the people," said BJP spokesperson GVL Narasimha Rao.

The Defence Minister's remarks come at a time thousands of former military personnel are protesting across the nation over the "One Rank, One Pension" rule, which would ensure that defence personnel who retire at the same rank and with the same length of service get equal pension, irrespective of when they retire.

Ex-servicemen were disappointed when the government did not announce the system last month though it was widely expected.
http://www.ndtv.com/india-news/no-war-in-decades-respect-for-army-has-diminished-says-defence-minister-manohar-parrikar-771784