Our Peasantry has to commit suicide why should we live?
What if Nestle withdraws popular noodles from shelves across India!
Just consider about the generous clean chit around without creating hue and cry about the so called BAN.
Hindutva Protagonist Shiv Sena opposes action against Amitabh Bachchan, Preity Zinta, Madhuri Dixit!
Palash Biswas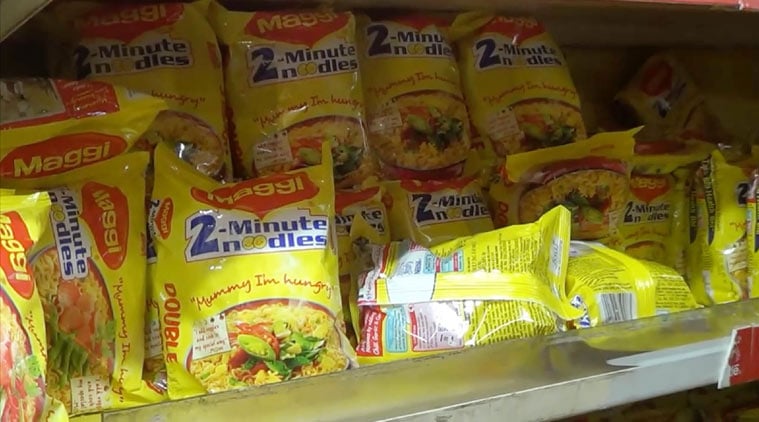 No wonder!Hindutva Protagonist Shiv Sena opposes action against Amitabh Bachchan, Preity Zinta, Madhuri Dixit!
We have seen Bhopal Gas Tragedy to happen.We have allowed to continue the experiments of mass destruction.We could not resist radioactive FDI based Making in calamities!
We,as a Nation celebrate GM food and our citizenship is reduced to hybrid biotechnology!
We have destroyed agrarian India and its indigenous production system and opted for imported food and drinks.
Our peasantry has no option but to opt for suicide?
Why should we live?
This chemistry of death is something like poetic justice!
And see,how this bullshit fairness blitz is defended!
Hindutva Protagonist Shiv Sena opposes action against Amitabh Bachchan, Preity Zinta, Madhuri Dixit!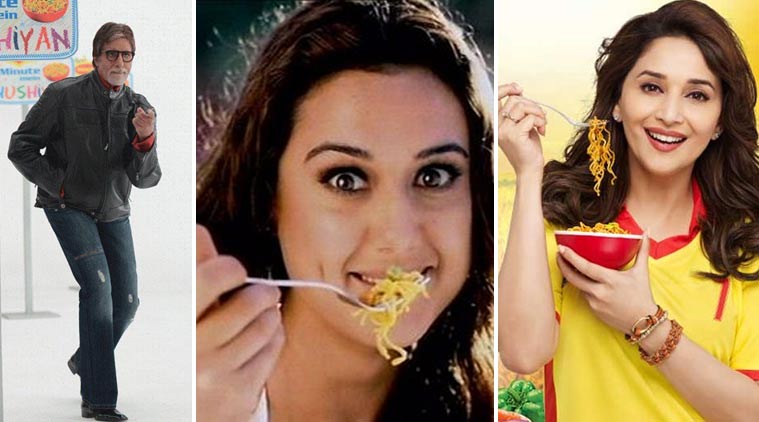 Shiv Sena came out in support of actors and celebrities – Amitabh Bachchan, Preity Zinta and Madhuri Dixit – who have endorsed Maggi, the Nestle India product which has been hit by allegations of hazardous contents.
"The issue and reports about Nestle are very disturbing for parents and consumers at large. A million questions are now arising like why quality control was not done till now. The lethargy of earlier governments has been an eye-opener," said Neelam Gorhe, Sena MLC and spokesperson.
A court in Bihar had yesterday ordered that an FIR be registered against Maggi brand ambassadors and actors Amitabh Bachchan, Madhuri Dixit and Preity Zinta. Gorhe said that several generations had suffered due to these lapses and there was a need for consumer-friendly monitoring and supervision of ready-to-cook foods.
"However, taking legal actions against actors seems taking it too far. Brand ambassadors, models and actors need to be more informed and careful while endorsing any product because people believe that they are people's well-wishers… But action against actors is an exaggeration of real facts and will divert the focus from the issue of safe and healthy food manufacturing," Gorhe said.
I have been insisting again and again that we should look beyond the beyond the Brand war as nothing has to change with withdrawal of some exposed product just because of worsen public opinion and discredited marketing.Better we should understand the  basic phenomenon of strategic marketing and the expansion of free market economy in a times of decontrolling,deregulating,Tax Holiday regime of business friendly fascism.The alchemists of death plays the death game behind the curtain and they would simply change the strategy of money making at the cost of the life and nature.
Thus,as Indian Express reports, Facing ban across several states in the country and a threat of nationwide ban looming large on Maggi noodles on account of more than permissible limit of lead and MSG in various samples, Nestle has decided to take the products off the shelves. In a statement issued late in the night, Nestle said, "The trust of our consumers and the safety of our products is our first priority. Unfortunately, recent developments and unfounded concerns about the product have led to an environment of confusion for the consumer, to such an extent that we have decided to withdraw the product off the shelves, despite the product being safe."
I does not change our life anyway,mind you!As we continue to consume whatever is catered by Visual virtual blitz amidst false celebration of Environment day as we have ceased to celebrate life!
Just consider about the generous clean chit around without creating hue and cry about the so called BAN.

The company however claimed in its release that Maggi Noodles is completely safe and has been trusted in India for over 30 years and promised that the noodles will be back in the market as soon as the current situation is clarified. In the meantime, Nestle's global CEO, Paul Bulcke is set to hold a press conference in New Delhi on Friday. Earlier on Thursday, Nestle made a presentation to the Health Ministry and defended the quality of Maggi noodles. It said that the samples detected with excess lead in Uttar Pradesh, which triggered nationwide scrutiny were past the expiry date. 

Just see this report!
Why prosecuting Maggi brand ambassadors like Amitabh Bachchan is idiotic
Punishing brand ambassadors shows that the government is only interested in going after the low hanging fruit
"Though the main action is being taken by FSSAI, we have powers to take action against those involved in misleading advertisements," Gurucharan has been quoted as saying.


The move comes after a test by the Uttar Pradesh FDA on 2 dozen packets from a single plant showed lead concentration of 17.2 parts per million (ppm), nearly seven times the permissible limit and high levels of added monosodium glutamate (MSG), a taste enhancer.
But why on earth are brand ambassadors liable for the product itself?


While one suspects that these notices are no more than a desire to either a) at best, get bragging rights for some mid-level sarkaari babu about how he/she bullied some of Bollywood's biggest names and b) at worst, get a photo and autograph from the poor actors who must present themselves.
I say no fault because a brand ambassador is not under any compulsion, legal or ethical, to make sure that every single batch that the company produces is perfect in every single way. Mind you, I am talking here only of large brands by reputable companies, not your locally-produced cheap imitation.
Hell, even the Prevention of Food Adulteration (PFA) Act, 1954, said that up to 5 pieces of rodent feces and hair were permissible in each kilo of wheat, maize, jowar, bajra, rice, and masoor, urad, moong, chana and arhar pulses, a glaring health hazard that was only removed in 2001 after a public interest litigation. In other words, it took the government 54 years and a court case to get rid of rat shit in your most basic food items. But I don't recall any politician who extolled the PDS system being pulled up for it.
For one, it is the government's job to make sure that a food product is safe to consume (which is not to say that Nestle India should be let off the hook, if the samples are indeed contaminated at those levels). But clearly, the UP FDA had not been doing their job – lead levels in a product don't jump overnight to seven times their permissible limit – and lead typically comes from our water supply.
Wall paint, too, is a major source of lead contamination, according to research from the Centre for Science and Environment. And according to research from the Quality Council of India, a government body, 33% of over 370 samples of water from the top 26 cities of India tested positive for harmful content of lead. Ever heard of any minister for water resources being pulled up for it?
How, then, can Bachchan or Dixit or Zinta be held responsible for a faulty batch of Maggi made in UP? If someone detects a higher level of petroleum jelly in say, Lux soap, should all heroines who endorse it or have ever done so, be hauled into court? That would be quite the beauty pageant, if you are familiar with that brand's ads. If multiple car accidents take place because of a faulty design in, say, braking, is the celebrity endorsing the car supposed to have studied the product from an automobile engineering perspective?
Celebrities are invited to promote a brand for many reasons – a fit with the product, big name visibility, establishment of trust, and most often, the sex appeal factor. They are told about the product, how it sits with their profile, and benefits for both sides, usually accompanied by a nice sum of money for the endorser. But they can't be held responsible for manufacturing errors.
Certainly, celebrities have an ethical and moral responsibility not to endorse products that are detrimental to the public good, given their outsize power to influence people. For example, you won't find any film actors in a (surrogate) cigarette ad though some have done it for alcohol and many have done it for gutka.
Kangana Ranaut has won herself plaudits for refusing to do any ads for so-called 'fairness', or skin whitening, creams on the grounds that it was a clearly racist and morally questionable product.
In the Maggi case, the smart thing to do would have been to close the Maggi plant, test a few other samples from the plant and others, and recall the offending batches, even penalise the company.
But punishing brand ambassadors shows that the government is only interested in going after the low hanging fruit – in this case, hapless celebrities who are predictably clueless about the storm that has hit them – in order to make a spectacle of it and divert from the real causes of high lead content in food products. I will not even go into the 
MSG 
issue, health concerns about which have
absolutely no scientific basis.
And once we move past the idiocy of summoning the brand ambassador for a fault in the product, we are presented with a more serious problem because, let's face it, if we really want to prosecute every public figure for "misleading advertising", shouldn't we start with our politicians? 
 and This Times of India report!
Maggi controversy: Twitter reacts
01
Actors Madhuri Dixit, Amitabh Bachchan and Preity Zinta could land in trouble if advertisements for Maggi noodles featuring them are found to be misleading, says the consumer affairs ministry. Maggi brand ambassadors, including Bollywood star Madhuri Dixit, were "warned of action" by the government if their advertisements for Nestle's popular noodle product were found to be misleading. However, Amitabh Bachchan has been quoted in a report as saying that he has not received any notice from the government over endorsing Maggi noodles. He says that he will fully cooperate with the law and adds that he had stopped endorsing the instant noodles' brand two years ago. According to reports, the Bihar court has ordered the police to lodge an FIR against Bollywood actors Amitabh Bachchan, Madhuri Dixit and Preity Zinta, who are the brand ambassadors of Nestle India, following a complaint filed by a lawyer alleging that he fell ill after eating Maggi. Reportedly, the court has ordered the police to file an FIR against the actors under various section of IPC (Indian Penal Code) that includes IPC 420 for cheating consumers. Also included are Section 270 for malignant act likely to spread infection of disease dangerous to life and Section 273 for sale of noxious food or drink.

However, while being slapped with a legal case seems inevitable for the stars, they have also found support in a political party. Read on to know more...