'The Express was never a mere business to him (RNG) and it is not a business to me and never will be. It was and is, a mission'
Full text of Express Group Chairman & Managing Director Viveck Goenka's address to employees on July 3, 2015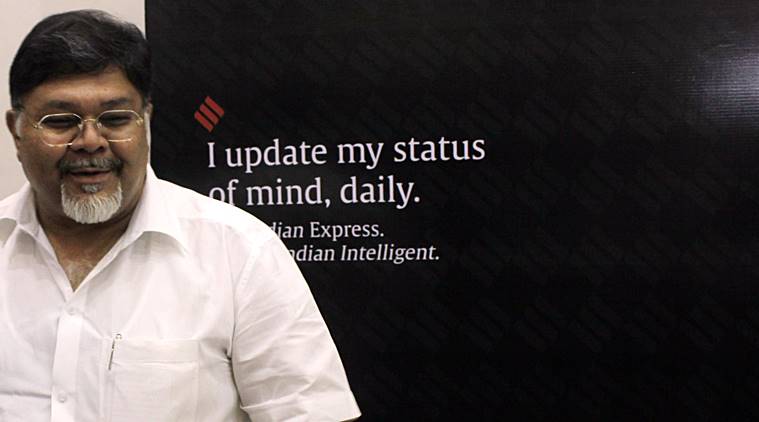 The Indian Express Group Chairman Viveck Goenka after addressing employees at Mahape in Navi Mumbai.(Source: Express Photos By Pradip Das) - 
Updated: July 3, 2015 9:41 pm
Here is the full text of Express Group Chairman & Managing Director Viveck Goenka's address to employees on July 3, 2015:
Dear colleagues, this is the first time ever that somebody is addressing the entire Institution. It is a very good feeling. It is for a joyous occasion – to celebrate the redesign and relaunch of The Indian Express. To convey to you my vision for the paper and the launch of a new campaign. To tell you that we will massively grow all our brands on the Internet. To announce the launch of our Jaipur edition next week.
This year, the Express will complete 83 years. In human terms that is old. In the life of this paper, I am sure that it will be a mere decimal. We stand today on the cusp of a transformation where we can together build on all the good work of the past and create a lasting institution which will unify independence, ethics and integrity with financial strength. That is our stated goal and we will achieve it. As one part of this, we completed the redesign of the Indian Express which gave it a fresh new energy. As another part, we have refreshed The Indian Express mobile and web app so as to make the paper reader friendly and accessible on any device. Our content, which was always excellent has gained depth and breadth. A similar effort has begun in Loksatta and other brands will follow.
The Indian Express is created every day by a dedicated team of people. What I want of these people is a fierce commitment to illuminating the truth and to do so with integrity and grace. I have made sure we have a newspaper which owes nothing to page 3, planted stories or pandering to politicians or large corporates. We must build on that. We must hold the attention of the thinking Indian. What this means is that the reader I want, irrespective of the medium must be an engaged citizen who is deeply committed to India and engaged with the events and issues of the day. I believe there are tens of millions of such readers and I would like them to have a newspaper which they respect and trust. I would also like the political class to have a paper which they open every morning with apprehension but also with anticipation. I want to see a paper which will combine investigative stories with insightful and differentiated analysis. And, we must not forget to take a holistic view while doing so.
We are at a moment in time where there are few certainties. Continuing innovations in the digital space have made the world a place which is hard to understand. However, some things are timeless. Courage, conviction, integrity and intellect will always be respected and that is what The Indian Express must reflect each day – on the paper and on the internet. The internet has become an equaliser where mere money power cannot overwhelm great content. We are already at the number 3 position among Indian newspapers on the internet and this is most certainly not because of frivolous content. We must therefore concentrate on the creation of quality content. Further, this must be done in a way that can be understood by any concerned citizen. An ability to simplify complicated issues and make them accessible to all readers is, according to me, a precious gift. I want us to cultivate it every day. With Raj, George, Anant and Unni at the helm and such wonderful colleagues in our editorial and online teams I feel optimistic that all this can be achieved.
Express staffers listen to the CMD's address at the Mahape office in Navi Mumbai on Friday. (Source: Express photo by Prashant Nadkar)
When I had met with some senior members of The Indian Express editorial team some months back, I had said we will soon have a few new centers for the paper. I am happy to be able to announce that we will commence printing at Jaipur this Sunday – July 5.
I cannot conclude without mentioning the outstanding leadership which George has brought to his task as the CEO. He has successfully connected all the different threads of the company be it editors, reporters, online media, BPD, marketing and circulation, finance, printing, back office, HR and operations into a harmonious whole. He understands, as I do, that all parts of a company are important and need nurturing. I am fortunate to have him and Raj here to bring my vision for The Indian Express to fruition. I promise all of you that there are exciting times ahead for the Express.
This is the 40th anniversary of the emergency and an appropriate moment to remember the courage and fortitude which our founder Ramnath Goenka had shown at that difficult time. The Express was never a mere business to him and it is not a business to me and never will be. It was and is, a mission. I know I speak for Anant too when I say that ours is an Indian institution which will endure as a pillar of freedom and democracy.
I thank you and wish you all the best.
- See more at: http://indianexpress.com/article/india/india-others/viveck-goenka-address-to-express-group/#sthash.HDuADaXO.dpuf - See more at: http://indianexpress.com/article/india/india-others/viveck-goenka-address-to-express-group/#sthash.HDuADaXO.dpuf