Our Icons have to be the glittering faces of Free market economy and politics.
Why Bangladeshi Icons happen to be so different?
বাংলাদেশে বিশিষ্ট হলে জনগণের পক্ষেই মুখ খোলার দায়বদ্ধতায মৃত্যু অনিবার্য.কবিদেরও কোনো ছাড় নেই,অথচ পশ্চিম বাংলায় সবজান্তা বিশিষ্টদের পোয়া বারো.তাঁরাই ক্ষমতার বিপনণে মুক্ত বাজারের মুখ.তাঁরাই দলে দলে দলদাস.
Palash Biswas
Amidst fresh news of death threats to no less than nineteen poets and Bloggers,it is ,of course,no relief that two arrested in Niloy Murder case and US top cops remain engaged across the border.
I wonder why the icons get killed in Bangladesh while we have been habitual to see icons in India in quite different roles.
For example,in our part of Bengal every other icons are tagged with some of other kind of politics which leads to power.
Our Icons have to be the glittering faces of Free market economy and politics.
Why Bangladeshi Icons happen to be so different?
Please help me to solve the puzzle.
বাংলাদেশে বিশিষ্ট হলে জনগণের পক্ষেই মুখ খোলার দায়বদ্ধতায মৃত্যু অনিবার্য.কবিদেরও কোনো ছাড় নেই,অথচ পশ্চিম বাংলায় সবজান্তা বিশিষ্টদের পোয়া বারো.তাঁরাই ক্ষমতার বিপনণে মুক্ত বাজারের মুখ.তাঁরাই দলে দলে দলদাস.
ব্লগার নীলাদ্রি চট্টোপাধ্যায় হত্যাকাণ্ডে জড়িত সন্দেহে আনসারুল্লাহ বাংলা টিমের দুই সদস্যকে গ্রেপ্তার করেছে গোয়েন্দা পুলিশ। আটককৃতদের নাম, নাহিয়ান ও রানা। আজ বৃহস্পতিবার রাতে ডিএমপির গণমাধ্যম শাখা থেকে পাঠানো এক মোবাইল বার্তায় এ তথ্য জানানো হয়েছে।
গত শুক্রবার দুপুরে রাজধানীর গোড়ানে বাসায় ঢুকে নৃশংসভাবে খুন করা হয় ব্লগার নীলাদ্রি চট্টোপাধ্যায়কে। তিনি নিলয় নীল নামে ব্লগে লিখতেন এবং গণজাগরণ মঞ্চের সক্রিয় কর্মী ছিলেন।
তিনি পূর্ব গোড়ানের একটি বাড়ির পাঁচতলায় দুই কামরার ফ্ল্যাটে ভাড়া থাকতেন তিনি। ওই দিন চার ব্যক্তি এই বাসার ভেতরে ঢুকেই নীলাদ্রিকে কুপিয়ে হত্যা করে। তার মাথা ও ঘাড়ে বেশ কয়েকটি ধারালো অস্ত্রের আঘাতের চিহ্ন ছিল।
- See more at: http://www.dailynayadiganta.com/detail/news/45959#sthash.OchcITCS.dpuf
-- 
None can kill Bangabandhu's ideology: PM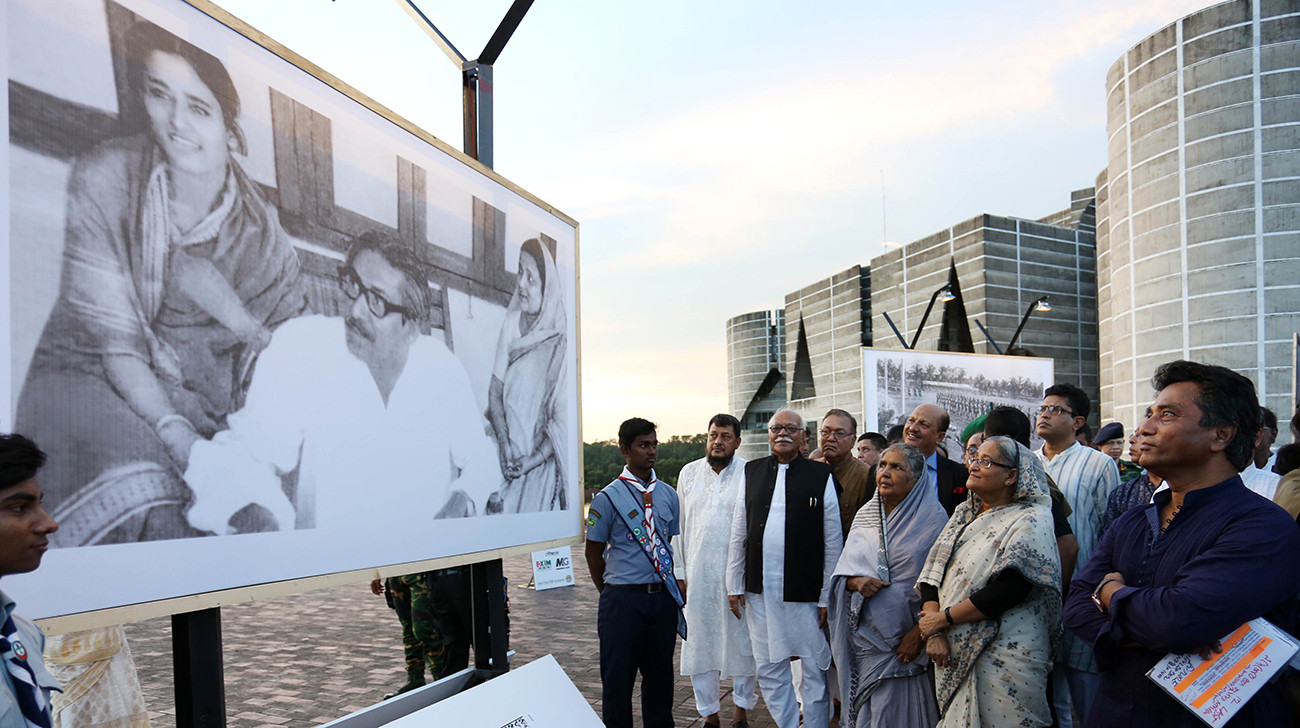 Prime Minister Sheikh Hasina today said no one can kill Bangabandhu's ideology and won't be able to do so in the future because it will remain alive forever.
"Bangabandhu's blood is still there in Bangladesh soil. Though Bangabandhu was assassinated, but no one could kill his ideology and won't be able to do so in the future," she said.
The premier was addressing the inaugural function of a three-day photo exhibition, titled 'Chitrrogathai Sokhgatha' arranged marking the 40th death anniversary of Bangabandhu Sheikh Mujibur Rahman at the South Plaza of Jatiya Sangsad.
The function was dedicated to the new generation.
Quoting some words from Bangabandhu's historic 7th March speech, Hasina, the eldest daughter of Bangabandhu, said the Bengali nation today proved it could no longer be suppressed.
"Bangalees have stood tall keeping their heads high, overcoming all the barriers…Bangladesh is moving ahead and would continue to march forward," she added.
Terming August 15, 1975 as a black chapter in national life, the PM said when the nation started dreaming of its prosperity, the tragedy befell on it.
Mentioning that Bangladesh is now regarded as a role model of development and has also graduated to a lower middle-income country, she said the day is not far away when Bangladesh will establish itself as a dignified country on the global stage...that's our goal and we're working to that end."
Extending her thanks to the Dhaka North City Corporation for organising the exhibition, Hasina said the exhibition is being held in such a place (parliament area) where her party had established the history of democracy after a long struggle. "We've also started marching towards economic emancipation through democracy."
Criticising Ziaur Rahman for patronising Bangabandhu's killers through imposing an indemnity ordinance and rewarding them with postings in various foreign missions, Hasina said those killers had ruled supreme in Bangladesh after Bangabandhu's assassination along with most of his family members, triggering terrorism and militancy.
Hasina said although 18 people were killed on that fateful day on August 15, she and her sister could not seek trial for the massacre.
With the August-15 killings, she said, the nation had not only lost its father but also got the spirit of the Liberation War and its history twisted and distorted apart from alteration of the constitution.
After 1975, Hasina noted, people could not utter Bangabandhu's name. "The history was distorted and people had no right to hear the Liberation War songs. The trial of the war criminals was stopped, while the convicted war criminals were freed from jail and made prime minister, ministers and advisers."
She said not only the students here, but also the whole of the new generation across the country could know the real history seeing these rare photographs and get inspiration for moving forward after gaining the spirit from the past.
The PM also vowed to turn Bangladesh into a hunger- and poverty-free Sonar Bangla as dreamt by Father of the Nation so that the country could move ahead at the global arena standing on its own feet not begging from others and thus turn into a developed country.
Organised by Dhaka North City Corporation, the function was presided over by Mayor Annisul Huq.
AL General Secretary and Public Administration Minister Syed Ashraful Islam, LGRD Minister Khondoker Mosharraf Hossain, Dhaka University Vice Chancellor Dr AAMS Arefin Siddique, Dhaka South City Corporation Mayor Syed Khokon spoke on the occasion while renowned writer Syed Shamsul Haque recited a poem.
Pl see my blogs;
Feel free -- and I request you -- to forward this newsletter to your lists and friends!